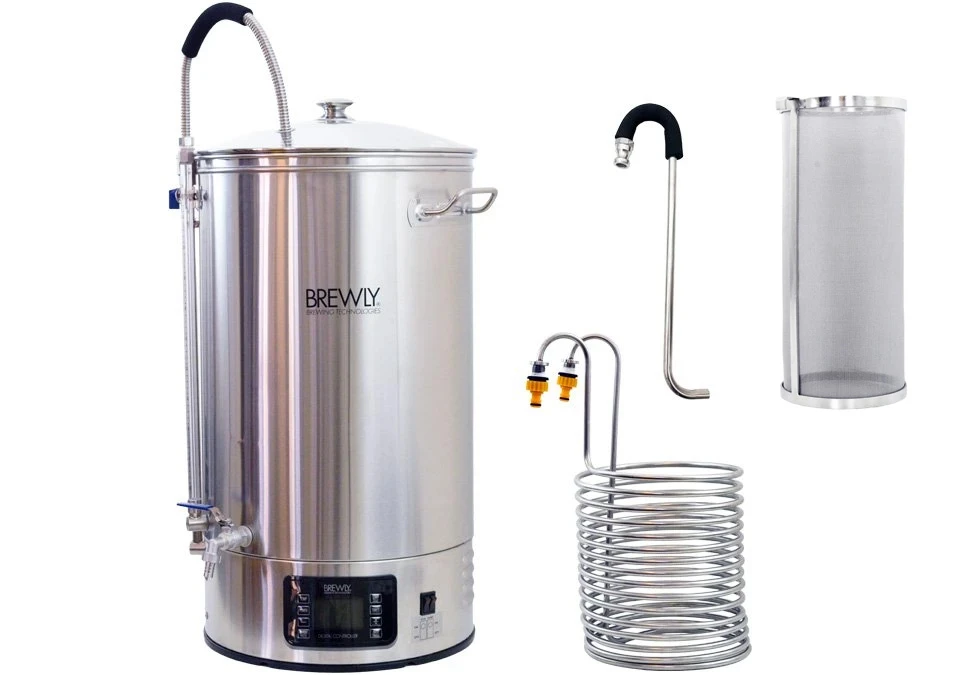 Brewly 70L is an efficient, compact half-automatic brewery for up to 60L batches with Whirlpool, Hop Spider, Wort Chiller with gardena-type connectors and mesh screen bottom hop filter.News:- Brewly SS500 Hop Spider is included- Brewly Stainless Mash Paddle 60cm is included- New improved malt basket allows more open wort flow to reduce risk of stuck mash.- New large surface heating element reduce risk of burn-ins.The Brewly brewery opens up a world of possibilities to brew great craft beer with friends and family, and experience the pleasure to make beer at home that tastes as good as it does from a professional brewery.Mashing, lautering/straining, boiling and cooling takes place in the same pot. The mash is pumped around and heated according to the RIMS method. The Digital Controller provides simplicity in entering temperatures, times and power for both mashing and boil. Up to 9 mash steps and 9 hop/spice steps per recipe, and the memory can store up to 9 recipies.The malt is placed in a stainless malt basket with a perforated insert. The malt basket can easily be lifted in several steps for lautering/straining, and the insert can be adjusted seamlessly to fit the malt bill, thanks to a telescopic overflow-pipe.A polycarbonate sight glass lets you see the wort/beer volume up to 60L, and there is also a volume scale inside.A stainless Whirlpool tube is also included, making it possible to create a whirlpool in the wort which increases volume efficiency and speeds up the cooling of the wort.Note: Effective brewing volume is 20-60 liters.Brewly 70L Brewery with Chiller, Hop Spider, Paddle & Whirlpool- Material: Polished stainless steel (AISI 304)- Chiller: 13m stainless Cooling Spiral with gardena-type fittnings for easy connections- NEW! Brewly SS500 Hop Spider (500 mesh)- NEW! Brewly Stainless Mash Paddle 60cm- Whirlpool: Stainless Whirlpool tube with CAM-lock-connector- Adjustable flexible recirculation tube with CAM-lock-connector- Bottom filter: Mesh-screen bottom filter for efficient separation of hops from the wort.- Brewing volume: 65 liters (recommended max)- Total volume: 75 liters- Power: 3500 W, adjustable in 100 W steps. 16A fuse is needed. The heating element with new larger surface is placed below the bottom to avoid wort caramelization.- Malt basket: Can easily be lifted in several steps for lautering/straining, and the insert can be adjusted seamlessly to fit the malt bill, thanks to a telescopic overflow-pipe. A Grainstopper avoids malt dropping through during mash-in. Max recommended malt weight is 15 kg.- Digital Controller with memory to store up to 9 recipies with up to 9 mash steps and 9 hop/spice steps each. Choose between Automatic Mode and Manual Mode with alarms and reminders.- Temperature range 25°C to 100°C, adjustable in 0,1°C steps.- Temperature control up to 100°C, with +-1°C accuracy.- Powerful magnetic centrifugal pump with seperate control. Max flow 12 liters per minute.- Tap with Bazooka mesh screen filter- Height: 69 cm (without lid and recirculation tube)- Diameter: 40 cm (without handles and tap)- Weight: 12 kg- EU-power plug (UK power plug not included)- 220-240V 50/60Hz- Instructions Manual in EnglishMash water calculation:mash water in liters = (amount malt in kilos * 2,5) + 10L.Note: 2,5 is the ratio between water and malt, ie how thick the mash is going to be. This ratio can be varied between approx 2,2-3. 10L is the volume of water below the malt basket inside the brewery.Example: For a 20L recipe with 6kg malt the mash water calculation is as following: 6*2,5+10 = 25L.Sparging: For a 20L recipe, sparge with 78-degree C water up to the 25L mark, and then start the boil (you may start heating the wort while sparging to save time).
Temporarily out of stock - Advance booking available
Expected in stock: 2023-11-10
View product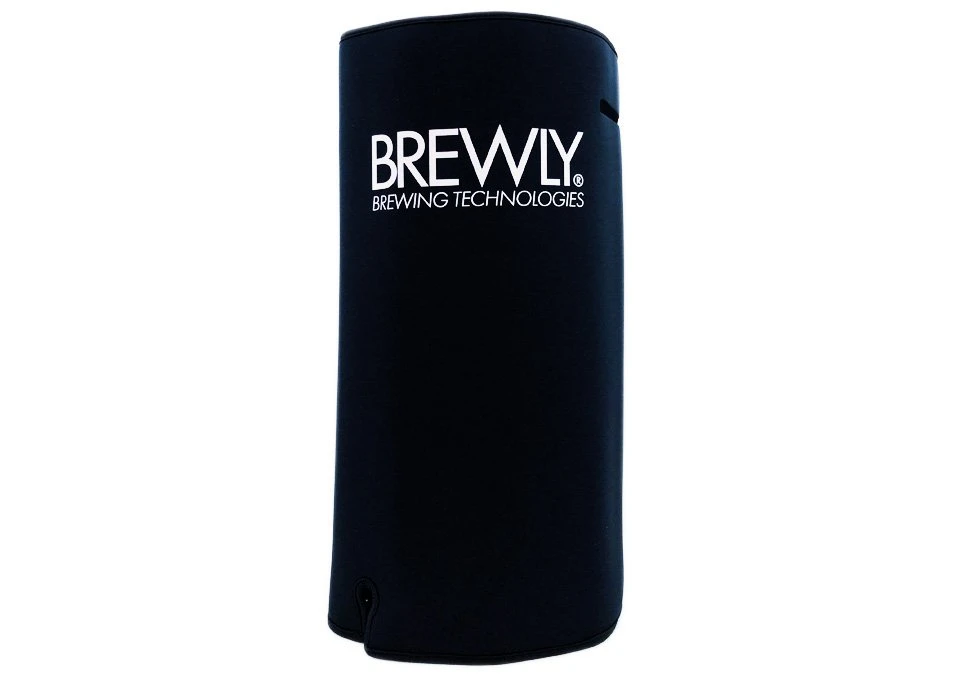 Heat insulation for the Brewly 70L brewery. Provides faster heating, more vigorous boil and reduces energy consumption. Material: 5 mm neoprene foam.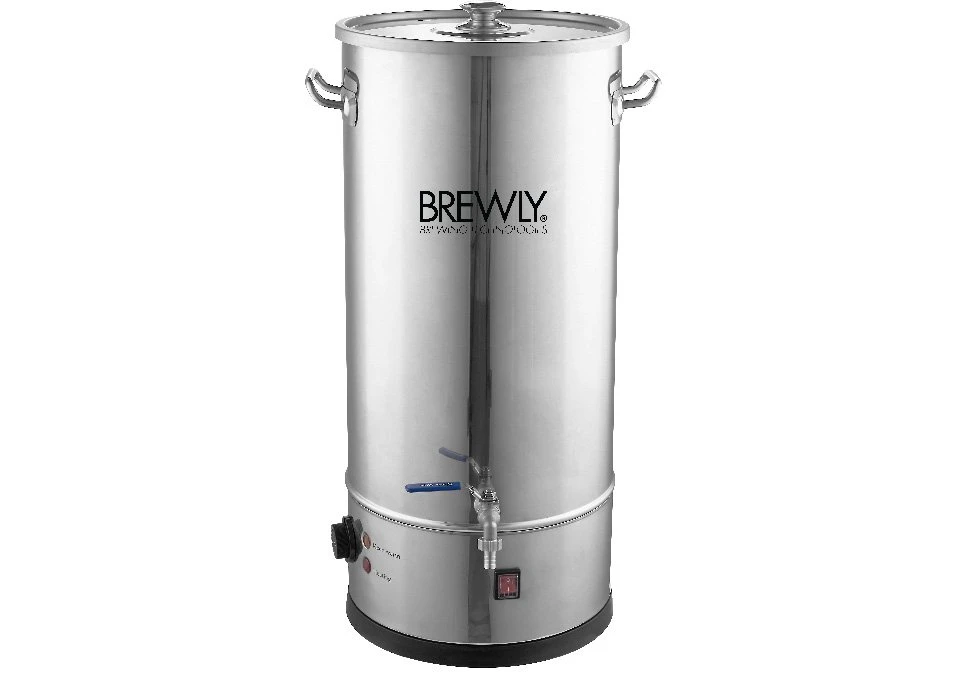 Brewly 40L Sparge Water Heater is a 2500W thermostat controlled heater for quick heating of sparge water - HLT (Hot Liquor Tank). This sparge water heater has the same ball valve tap as the Brewly Breweries, a stainless steel quality product.Brewly 40L Sparge Water Heater (SWH40):- High quality 304 grade stainless steel construction- Stainless steel lid- Stainless steel ball valve outlet- Heavy duty handles for safe lifting- 40L total capacity up to brim- Internal volume scale up to 35L- Concealed 2500W electric heating element for easy cleaning- Precise electronic temperature control via display, +/- 1°C- Thermostat setting 30-110°C (110°C for max output).- 2000 W heating element for quick heating- Automatic overtemp cutout and overheat protection for max safety- 230V power supply. EU-version power cord (UK power cord NOT included).- Needs 13-16A fuse.
kr 1 959
Temporarily out of stock - Advance booking available
Expected in stock: 2023-11-10
View product
Let others know what you think about Brewly 70L Brewery Kit